About
A short video from our family accompanies the picture above which expresses our heartfelt feelings about Dominic and why we started this research fund. You can watch by clicking where it says play.
June 2023 Update and Announcement:
Thank you to everyone for the incredible support. We have increased this year's goal to $130,000. This is because we reached our goal even before the fundraising event. So AMAZING!!

It is now a permanent endowment! Dominic's Research Fund will soon start helping to fund the Ewing Sarcoma Research Study being conducted at the University of Iowa led by Dr. David Gordon MD PhD. He has a brief "Thank View" video link here: Watch Video

Sarcomas in general are very rare, and significant communication happens among the specialists in the field across institutions. Therefore, supporting this fund will help patients like Dominic across the nation and even wider.

The annual golf outing event was recently announced for October 21st by our son, Nick. The promotion is shown below for those who did not see it. Please pass along information about the fundraiser and the research fund to anyone you think might want to participate or support this at any level. Spreading the word often becomes a donation of its own.

Again, we thank each of you most sincerely for your generosity. We believe it will be very influential in treating this most difficult disease. With this ongoing charity, we also honor Dominic and endeavor to create a legacy of kindness and hope.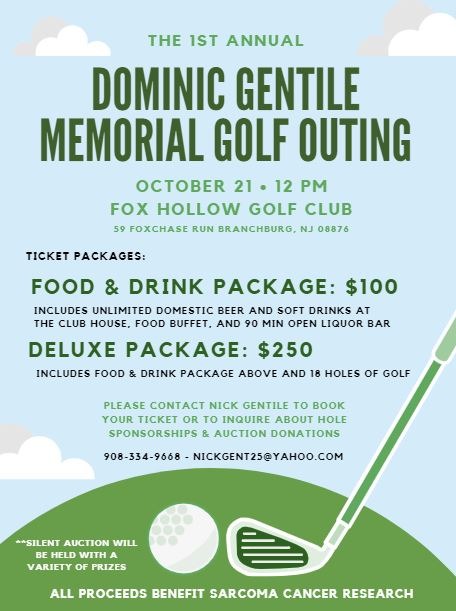 __________________________________________________________

Dominic Gentile, DVM 1993-2021
Our son, Dominic, was diagnosed with metastatic Ewing's Sarcoma when he was 25 years old. He had just begun his last year of veterinary medical school—a joint program at the University of Nebraska and Iowa State University—when he had to take medical leave to begin his initial treatment. He completed ten months of treatment, enjoyed eight months of remission, and resumed his classes. Unfortunately, the cancer returned. Determined to graduate, Dominic continued his schoolwork, while concurrently receiving more chemotherapy treatment. His time on medical leave prevented him from graduating with his classmates. In March 2021, six of his professors and deans flew from the Midwest to New Jersey to hold a private graduation ceremony and present Dominic with his diploma graduating summa cum laude.

Family was very important to Dominic. He was a role model for his younger brother, Nick, and younger sister, Jamie, who both loved and admired him. He made lifelong friends everywhere he went, and they provided incredible support for him throughout his illness. We are forever grateful for that. We have been amazed at the number of people who have told us stories of how he touched their lives, which has been both comforting and uplifting. He accomplished so much within his short life. In 2021 alone, he graduated, practiced veterinary medicine for several months, and married the love of his life, his wife Alex. Those events shone brightly through his illness. Tragically, we lost Dominic on October 29, 2021.

Ewing's Sarcoma is a very rare cancer of the bone and soft tissue. There are approximately 200 new diagnoses each year, mostly in children and adolescents. Unfortunately, Dominic's disease was metastatic at diagnosis, so the survival rate for him was about 30%. Because the disease is so aggressive, the primary treatment is highly intensive. It has not changed much during the past twenty years. It consists of multiple cytotoxic chemotherapy drugs given together, surgical resection when able, and often radiation therapy. Dominic had all three.

He received such outstanding care at the University of Iowa Holden Cancer Center, which is a designated Sarcoma Center of Excellence. It is impossible to adequately thank all the doctors, nurses, and other staff for their compassion and professionalism, and we are truly grateful. We are especially thankful to Dr. Ben Miller (oncologic orthopedic surgeon) and Dr. Varun Monga (medical oncologist), both of whom gave Dominic his best chance at survival.


In support of Dominic, his brother and sister sold "DOMSTRONG" and "Defeating Ewing's Sarcoma" bracelets and gave Dominic the $600 from the sale of the bracelets. As was his nature, he graciously donated that money to sarcoma research at the University of Iowa.

We want to continue what Dominic started by helping fund research at the University of Iowa's Holden Comprehensive Cancer Center with the goal to find a cure for Ewing's Sarcoma. There is current research that is testing new drugs that target the cancer cells directly. The hope is that this will both improve outcomes for patients and decrease side effects of treatment.

Through this charity, we honor the strength Dominic showed throughout his fight, as he never gave up and did it with remarkable courage and grace. He was, and is, an inspiration to many. Our goal for 2023 is to raise $100,000. Reaching that threshold will make the Dominic Gentile DVM Sarcoma Research Fund an endowment, which would make it permanent. In addition to this, we will continue annual fundraising efforts beyond 2023. Thank you in advance for any donations. They represent the best in human compassion, and we see them as a statement of Dominic's effect on those whose lives he touched.

We love and miss him dearly.

Jim and Maureen Gentile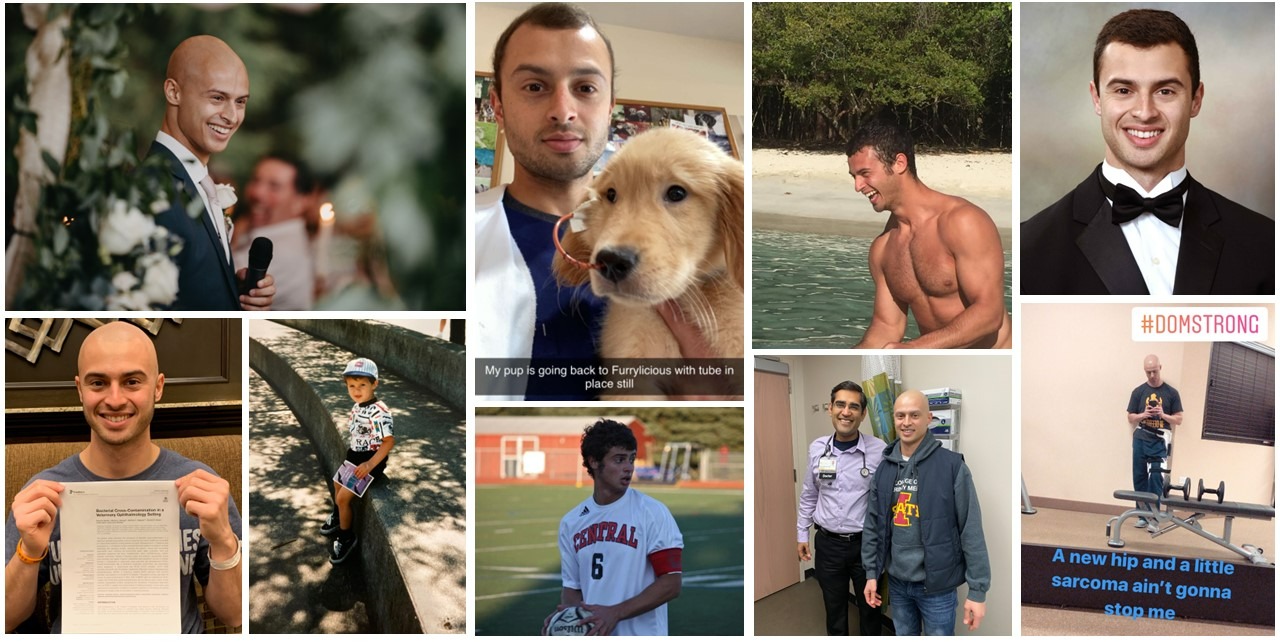 NOTICE: The University of Iowa Center for Advancement is an operational name for the State University of Iowa Foundation, an independent, Iowa nonprofit corporation organized as a 501(c)(3) tax-exempt, publicly supported charitable entity working to advance the University of Iowa. Please review its full disclosure statement.

Privacy Policy
No updates have been added yet.
---
Most Recent Donors
---
Advocates
Become an Advocate and be recognized for your impact!
---
Share with your Network
Share the campaign to track the number of clicks, gifts and dollars you generate (Note: If you share without signing up or logging in, your impact will be counted as Community Advocate)
Inspire your Friends & Peers
Encourage others to give with a Matching Gift or Challenge.
Tell your Story
Create a Personal Plea video encouraging others to join you in supporting the campaign.
---